This summer has been a complete whirlwind of activities.  I have been busy with the kids, teaching, reading, fighting knee pain, and making STUFF.  Some of my favorites this summer were a set of 3 costumes I made for a Steampunk Art Camp.  Most of the pieces were recycled from other costumes, with a few new pieces thrown in.  The bowler hat is my favorite piece.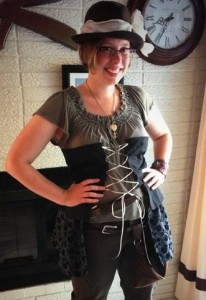 This particular costume is simply an old bowler hat with a bow and feathers with a few gadgets hot glued on.  The peplum came from a Wicked Witch costume, and I added an extra layer of fabric to make it a bit "frillier."  The pants and shirt were discovered in my own dresser drawers, and the belts I stole from my husband's closet.  It is so much fun to try and make a costume from what is in your basement and not spend a penny!
Besides costumes, I've been making quilts, knitting up a storm, planning a high school curriculum. In fact, this afternoon, I'm off to the quilt shop to play with one of their new Innova quilting machines.  Will let you know how it goes!  I'm so excited, I can hardly sit still.