So I knit a Spring Beret!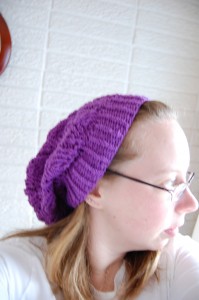 Isn't it fun taking a picture of yourself? I was totally watching my reflection in the window as I took this!  But you're not supposed to be looking at me! Look at the hat!
Isn't it cute?
Here, how about a close up.
See! Cute hat!  But alas, this one is not for me.  It's for a hat swap.  And this purple-licious creation has already arrived in Pennsylvania to be a nice warm hat for another.
I hope she enjoys it!
(I may have to knit another one for myself soon.)