We had such a big weekend, it's going to be divided into chapters.
Chapter 1-Water Water Everywhere!
Saturday, we spent the day in Chicago.  Miss R had earned herself  a prize by staying dry for nearly a month.  Usually, we go to Kalamazoo Bounceland.  But it was spring break, so we decided to go BIGGER.
We started the day off by taking a train into Chicago.
Miss R even got to watch the driver (conductor?)
An hour and half later, we arrived in Chicago and walked to Navy Pier.  I'd never been to Navy Pier before and I was quite surpised.  It was a giant mall-like structure.  And in this mall is The Chicago Children's Museum.  Our destination for the day!
Our second stop (the first being bathrooms, of course) was the Water Works room.  Miss R got to wear a rain coat (so did Mommy!) and we played in the water.
This was a giant waterway with a water wheel at one end, and channels to float your little tugboats.
Even Daddy got in on the boat action.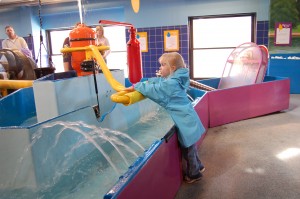 And then there was a giant pump.  Daddy got a little carried away on the other side of the big pump, and right after this picture was taken, Miss R and Mommy got wet, REALLY wet, when Daddy got the water at least 10 feet in the air.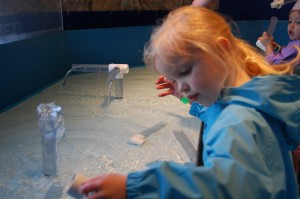 Then there was the fountain station.  Using long tubes, you can build your own fountain.  Miss R liked this station.  Building and water, an excellent combination.
And this was only the first hour in the museum.
Stay tuned! More Children's Museum all week!