I've missed a few days here, but it's been so very busy here.  On Thursday, we visited Moreau's Museum, which was also his house.  Then we walked up the Mount of the Martyrs (more on that later).  Friday, we went to the Chartres Cathedral.  And on Saturday we hoofed it around town looking at buildings by Le Corbisier and then Monet and his museum.
I don't have pictures of all of these now, but I'll try to post as we go along.
First, Moreau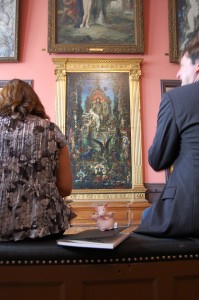 He was pretty cool because he painted unicorns and sphynxes during the time when everyone else was painting portraits of kings and important people.  I liked his unconventional-ness.
Then, We walked up the biggest hill in Paris, I'd like to call it a mountain.  In fact it's name is translated as Mount of the Martyr.  So St. Denis was forced to walk up this mountain on his way to be beheaded.  Pretty sad huh?  At the bottom of the Big Enormous Hill is the Notre Dame de Lorettes, a church dedicated to the Lorettes (or Easy Women) of the town.  A place for them to save their souls.  Piggy stopped here to see the church.  It really wasn't an impressive building, but we had already hiked up the bottom of the mountain and we were tired.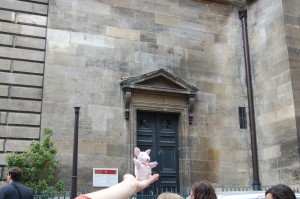 Then, we saw George Sands' place of residence (she was a writer who liked to wear pants and got permission from the Paris government to do so) and across the courtyard was Fredrick Chopin's residence (he was a famous composer).  The great part of this story was that they were at one time "companions" if you know what I mean.  So they took turns running across the courtyard to each other's house in the evenings.  Fun huh?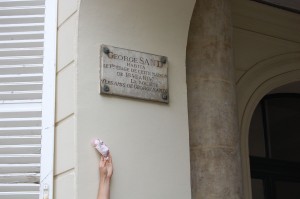 (As a side note, today-Monday- we saw the place where Chopin died.  He sort of passed out on the street.  Sad story, but there's a lot of history of death and destruction here in Paris.)
A little further up the hill was a place to rest and get a drink.  Some guy (sorry, I don't remember his name) decided Parisians needed clean water to drink and installed fountains along the streets.  Piggy stopped for a refreshing drink before we continued up the hill (did I mention is was a REALLY BIG HILL?)
Another break and we saw the Metro station entrance.  It was originally designed by an architect named by Hector Guimard (can't believe I knew that!).
(You can see the belly is getting a bit bigger.  Baby R2 has been jumping around a bit more too-very exciting)
Up another small hill and we saw Picasso's place apartment as he completed Damesoilles de'Avignon. A tiny little place with a great view down the hill.
I didn't get a picture of the down hill part.  I was a bit winded and just forgot!
I got a few shots of interesting streets going down.  Plus a windmill from Moulin De La Galettes which is not the original Moulin-that one was down the street a little ways.  Then we had to climb the hill again.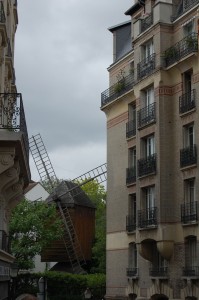 At the top was a really big church.  I didn't see the really big church because by then I had to go to the bathroom and take a little break from climbng up really big hills.  Jen and I eventually took the Metro back down the hill (thank goodness for trains), but we were at the highest point in Paris-Montmarte.  Jen had her portrait done by a really bad portrait artist, but he drew a really cute generic person with Jen's glasses.   I think if we run out of money, we shall do portraits for unsuspecting tourists as well. We could at least make a few bucks.
PS. Happy Father's Day to Ben and my dad! I know I didn't call, but it's expensive to call! So, I figure you all would like a little toy instead
  Love you!