Friday, we traveled to Chartres so we could see the Chartres Cathedral.  Here's Piggy showing off one of the towers.  This one was not quite as ornate as the other.  I absolutely loved this little town.  It was very quiet and had a nice little square with cafes and shops.  I got some handmade chocolate here.  WOW was it good.
Here's some of the Kings and Queen's carved into the columns beside the doors.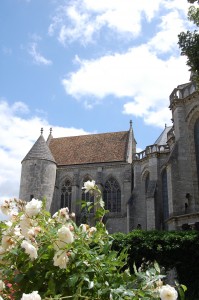 We walked around the Cathedral, and here is the back section.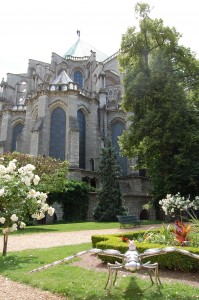 Again, the back of the Cathedral.  Plus a very cool metal dragonfly which I thought was very strange next to this really old (12th century) Cathedral.
One of the Rose windows from the interior of the Cathedral.  It was strange to see all the people milling about inside the church.  They still hold masses and smaller services in the church, so while some people were sitting in pews praying, there were a lot of tourists looking at all the carvings and the labrynth on the floor.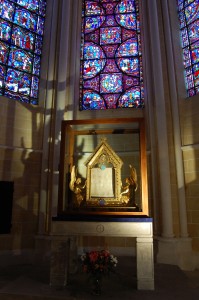 This is the piece of linen believed to have been worn by Mary as she gave birth to Jesus.  It was at one point 5 meters long, and now, this is all that survives.  There is another piece about as big as this that they keep hidden away.  It was given to the church by Charles the Bald and was once sent on tour in order to make the church some money in order to finish construction.
There's also the rumor that St. Anne's skull was once here.  St. Anne was Mary's mother.
I went on a little tour of the crypt while I was here.  It was dark and creepy and they actually hold services in the crypt as well.  There was a well that was built in the 4th century and that a Saint was thrown down by Vikings in 849 when they attacked the Cathedral and burned most of it to the ground.  Vikings weren't very nice.
We had a little dinner before heading back.  I had a hawaiian pizza (I know, not very Parisian, but with French cheese, and bread, it was MAGNIFICIENT.  Also, my new favorite drink is orangina-an orange juice and sprite mix that is sold in bottles.)