Things have been relatively quiet here at home while Mommy Rimes is away. The trouble with the past two weeks is that I've been working my summer job, putting together some resources for a grant project I'm doing with iTunes and the state of Michigan, and trying to be the ultimate single dad. Needless to say, my master plan of being able to finish up several small projects around the house, make frequent trips to the park, and keep up with my e-mail hasn't been working out too well. That's alright, because when my life gets this hectic, it actually makes it easier for me to concentrate on what's really important; family.
Which means last Saturday, when Little Miss R and myself had the whole morning together, we went downtown to the farmer's market, played with the animal sculptures on display downtown, and had some time to just be silly. Although the pictures are of poor quality, here's some of our Saturday adventure.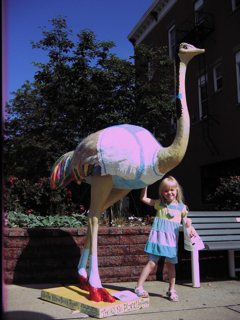 For the past few summers, St. Joseph has played host to an outdoor art display. It all begin with replica carousel horses, but other years have seen bears, cars, boats, and this year we have animals. The theme is Surf 'n Safari, which is actually quite clever given that we're on Lake Michigan. The animals are pretty impressive too, with this ostrich being one of Little Miss R's favorites. You can't tell from the photo, but this bird is wearing ruby slippers.
We also had time to stop by the Gorilla Putt Putt and play a quick hole of minature golf. If you're listening St. Joe Today, you should get started on next year's theme of miniature golf holes. Little Miss R enjoys playing putt putt, even if she holds the club backwards, and uses it more like a shovel than a golf club. We also had a chance to go down to the peir on the mouth of the St. Joseph river, where we saw a man fish a medium sized snapping turtle out of the river…yikes! More pictures below for your enjoyment.