The last couple of days we haven't been able to take pictures in the museums, so there are few photos to share.  We went to the Musee de Picasso (no photos) which was ok, I'm not a big Picasso fan, so there wasn't too much there that was exciting.
We also went to the Musee Marmotton Monet: again no pictures.  But that was a nice museum with some of Monet's smaller works.  None of his giant waterlilies, but some other rather nice pieces. We saw Impression Sunrise, a rather unassuming little piece, but very interesting when you get to see it up close.  I think I am totally in love with the Willows.  Monet painted his willow trees in a variety of lights and times.  They are very peaceful trees.
Went on a canal boat ride on Sunday.  We sailed down the Saint Martin Canal which was created by a Napoleon for drinking water, but it quickly became polluted, so now it is used as a water source for Paris for washing the streets and watering plants in the gardens.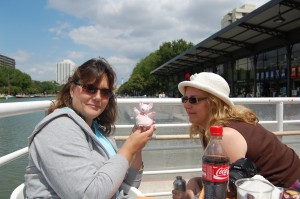 We went through 4 sets of locks to take us down the canal.  That was fun for the first two times.  It was a slow process taking more than 15 minutes to get through each set.
We sailed under the Bastille (which is no longer standing-it was demolished during one of the many Revolutions) where the canal was dug under the fortress.  Voltaire was held there as well as the Marques de Sade and the Man in the Iron Mask.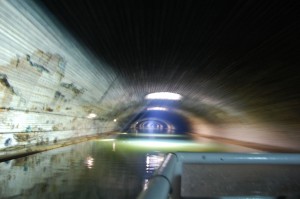 While we sailed through the tunnel, they showed a movie about the Bastille on the wall as we sailed past.  It was interesting.  It was in both French and English, so we listened as we went under these great big holes in the ceiling (ventilation?) It was about 2000 meters through the whole thing.
We did some shopping around town, and this was the busiest part of Paris that we have seen so far.  There were people everywhere.  There was a lot of music and dancing on corners, as well as lots of tourists and local Parisians.
I've been doing well hoofing it around town.  The baby is getting bigger and heavier, and this is not exactly the perfect time for a sightseeing tour.  The weather has turned a little warmer as well, so that's not helping the swollen feet.  However, we have been enjoying the museums and the streets of Paris as much as possible.  I have also been enjoying the nibblies and even tried a falafel yesterday while we were in a Turkish neighborhood.  So yummy!  The crepes are pretty good too
Breakfast is always yummy.  We have baguettes and crescents with orange juice and hot chocolate.  That is what the French eat for breakfast, bread and coffee. I don't know how I'll ever go back to cereal after this!