This has been a big week, HUGE in fact, because I got to go to GIVERNY!  The home of Monet.  The gardens! The pond! The bridges!  It was fantastico!
Wanna see some pictures?
waterlilies!
Willows! and waterlilies!
There were a lot of waterlilies.  OH!  Great story about Monet.  So, he had all these gardens, but only after a few years of actually selling some art (he was quite poor for a very long time) and eventually, he had 6 gardeners to help take care of nearly 5 acres of plants and pond.  One gardener had the arduous task of keeping the pond up.  His particular job was to make sure that, every morning before sunrise, the waterlilies were clean.  Monet lived on a dirt road, and the dust from the road would coat the lilies, so this guys job was to go out in a little boat and dunk all the waterlilies so that by the time Monet got out there, the waterlilies were nice and clean.  Cool huh?
There were a bunch of cool stories about Monet.  You know that dirt road? So, after another couple of years, he made a little more money, and decided that the dirt road had to go (it was interfering with his waterlilies). He offered to pay half of the paving if the city would pave his portion of the road.  So, for a very long few years, there was a mile and half of paved road in front of Monet's garden, but the rest of the road was still dirt.
Across the street was Monet's house and gardens.  His house is BEAUTIFUL.  It's long and skinny and absolutely lovely.  The rooms are all painted with a particular theme of colors in mind that show off the particular art that is housed in that room.  The sitting room was two shades of blue to show off his Japanese prints (he had a lot of them), the hallways were lavender with green trim (no art in the halls), his study was bright and cheerful (his own paintings) and the kitchen! Oh the kitchen! It was stunning.  The dining room was yellow.  I mean YELLOW and it was absolutely stunning! The blue Japanese prints on the walls were shown off excellently with the yellow walls and chairs.  And hiding in a corner of his dining room? The Great Wave.  It's tiny and I can't believe I found it, but there it was.  The kitchen was blue tile and again, just as beautiful with more Japanese prints.
Wanna see pictures?  Too bad, they wouldn't let us.  But I did get some postcards of the kitchen and dining room, so you'll have to ask me to see those
But, here's the porch just outside the kitchen and dining room.
As we wandered through town, we came across a little something fun.  Ben-this one's for you.
That's sand.   The guy who lived in this house: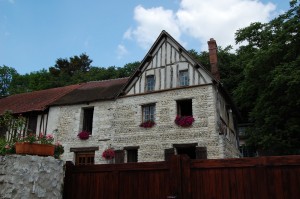 Made this:
Isn't that awesome!  I especially like the little dog peeking out from under the table.
It was a great day, I only got a little sunburned, and was completely exhausted at the end of the trip, but it was totally worth it.  I absolutely loved Giverny.