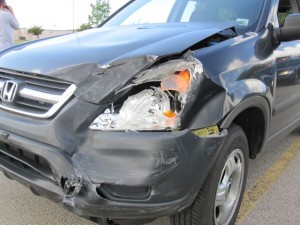 This is what my trusty ol' CRV looks like today.  Totally borked.  This is the first car I've thoroughly destroyed, and hopefully will be the last.
I had the misfortune to be driving through an intersection (I didn't have a stop sign) when a teenager thought she could make a left in front of me before I got there. She couldn't see me, because there was a semi in the right lane, while I was in the left.   I totally ran into her.  Of course, her car was still driveable, whereas Chuck (that's my CRV) is not so much road worthy. The bumper got smooshed into the tire, not to mention there were some guts hanging out from under the hood too.
Of course, she has to explain to mom and dad why their Escalade has no running board and both of the driver's side doors are smashed in.  I don't envy her that.
The good news is that no one was seriously hurt-I know I'm sore this morning from the seat belt, so I'm sure they are too-but nothing that required a doctor immediately (I did see my chiropractor this morning and she did her magic, as well as calling the midwife to make sure all was ok there-he's just fine).  The police came out and were very wonderful.  The insurance company is taking care of everything.  The auto body shop is taking care of Chuck.  We have another car to drive, and we don't both need to be somewhere until late next week.
The even better news is that while I get to lie around today feeling lazy, I've had some time to knit!  I started on a new super secret project.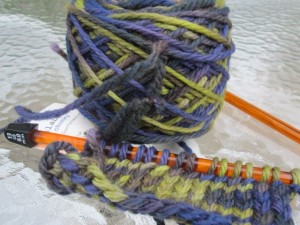 That's Malabrigo Chunky in the Hummingbird colorway.  It will turn into a cowl for a Christmas present.