What do you call a bunch of princesses?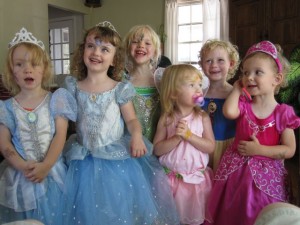 A party!!
I know it's late, but this is from Miss R's birthday party. The princesses all came in costume, we painted faces and they generally had a great time.  We tried to have an outdoor party, but in August, it can go either way.  It was nearly 95 outside, so all the princesses migrated indoors for cake and ice cream.  Miss R had a blast and ended up with a TON of princess inspired games (how did they all know?!).  In fact, Miss R and Daddy are playing Princess Yahtzee right now.
Thank you to everyone who came and had a great time.