St. Joseph just got a brand spankin' new water fountain this summer.  It officially opened on Labor Day weekend, so of course, we had to check it out.
Here's all the kids waiting in anticipation for the water to turn on!  You can see the little guy there in the front-he was determined to get really wet.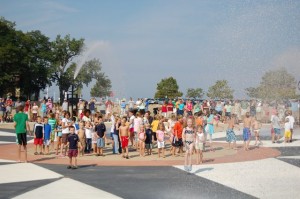 He totally got his wish!  There are a bunch of water canons that go off every half hour and pump something like eleventy hundred gallons of water at unsuspecting fountain-goers.  Even standing off to the side, we got soaked from all the spray that these things put off.  Plus it was a windy day.
Miss R did NOT want to get wet. But she did have a great time watching with Daddy.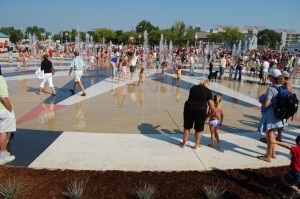 After the canons, they had some tamer jets that came up from the ground.  Everyone enjoyed those.
The fountain is designed to be interactive and everyone is invited to run around on the fountain (just look out for those canons!)  There are lights recessed into the ground as well so at night the water is all lit up and looks lovely.
Or so I've heard.  After the opening day, the fountain caused a water main downtown to burst, ending the fountain fun for the season.  Bummer.
The fountain is a pretty nifty feature.  But wait, there's more!
The carousel is set to open this winter, so they had an open house to walk through and peak at the construction work going on there.  Curious Kids will have a museum in the building as well.  They even brought some face paints so we could have some fun with the kids.
Miss R had a great time making Mommy a new watch.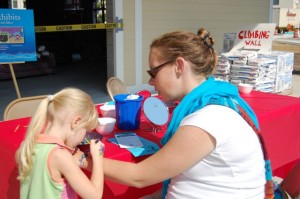 It was a lovely blue watch.  However, for the rest of day, we were quite late to all of our appointments.