Today is a totally random sort of day.
Thing the First:
These are our pumpkins from Halloween.  Miss R picked them out.  As a friend mentioned when she visited, "Oh my Goodness! Those are perfect! They look just like you!"  Can you pick out whose pumpkin is whose here?
Thing the Second:
I felted a bowl.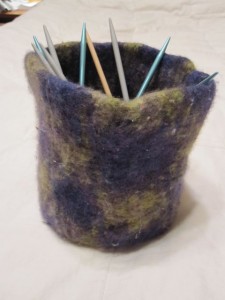 This delightful little object began life as a cowl before it was felted in the wash.  Then it got a crocheted circle bottom and voila! A new life for a useless object. It made me happy.
Thing the Third:
It's Friday.  That makes me happy.
Thing the Fourth:
Got a flu shot today.
Thing the Fifth:
I ate a chocolate chip cookie with milk for desert.
Thing the Sixth:
I am going to be going to bed soon.
Baby Watch 09: 17 days to go.  Got a flu shot today.  Yippee.