I have a whole stash of unfinished projects, and I thought I would share them with you.  Nothing like a little pressure from the internets to get things done. Most of these are Christmas projects with a few exceptions. With that in mind, I can't tell you about most of them, just show them to you and hope you understand.
The first unfinished project would actually be my house.  But I'm not going to show that to you because it looks like a few children's stores threw up in my living room.  There are toys, clothes, baby socks, diapers, and whatnot spread from one end of the living room to the other and it seems to have seeped into both the bedrooms and the kitchen.  It ain't pretty.  I'm hoping that nesting instinct shows up soon to help clean this all up.
The next unfinished project is a hat.  I can tell you about this hat, because it's for someone who is not here yet.  This is Donut's viking hat.  Right now, it's a Unicorn Viking Hat, but I'm hoping to remedy that by early next week.  This will in no way fit him until sometime around 2011, but it's still cute regardless.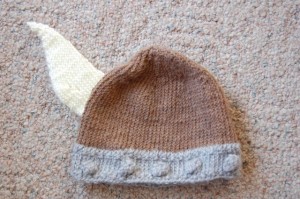 Here we have a mystery ring. It is being knit with some leftover Encore in a delightful shade of forest green.  There will not be enough of this to finish the ring, so it will probably end up being striped with several other leftover colors from my Encore selections.
Next up is two things.  These are a delightful shade of underwater (if you live in the Caribbean) turquoise blue.  These two things will eventually become one thing.
Here is a sewing project.  I don't know if this one truly counts as unfinished, because I haven't really started it yet.  When I got up at 5 this morning (on a SATURDAY!!!) I decided to start a brand new project.  I laid out all these little charm squares that are a Mary Engelbreit Christmas line for a holiday quilt. I don't have quite enough to make a full size quilt, or even a lap quilt.  Perhaps it will work as a table cloth that I can turn sideways that won't really fit the table either. Or perhaps I will be inspired tomorrow morning at 5 am to find a different placement of the squares and make it much larger.
And the last unfinished project for today:
***
Yup, he's still not here yet.  After coming home yesterday with the flu (the jury is still out on whether it's the flu or early labor symptoms) he's no closer to showing up than he was last month.  However, I still believe that he is ready, he just can't find the exit.  The way he's been beating on my side today, I feel that he is trying to break out.  He's just a little directionally challenged.
Hey, is that a bruise?
*** Pardon the jammies.  I was all dressed and ready for cute pictures, then dropped hot butterscotch pudding all over me.  I totally gave up after that and went right back to jammies.
Baby Watch 09: 8 days to go.  I have the diapers, the wipes, the clothes, and blankets.  Now all I need is the kid.