After more than 24 hours of contractions, everything has stopped.  So now we are waiting around for baby Donut to decide he really IS ready to enter the world.  What am I doing in the mean time?
I'm knitting.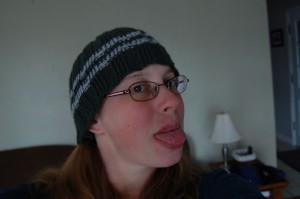 A manly hat for a Christmas present.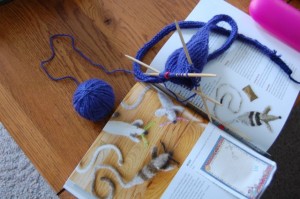 A mouse.  He's all knit, he's just waiting for felting and some catnip.  Miss R does not like that he is purple.
"Mommy, mouses are NOT purple.  They are white or gray." Too bad for her, this is the leftover wool I had on hand, so purple it was.
I'm also working on a baby hat that is almost finished, but didn't take pictures of.
We went to Cafe Tosi for breakfast and had French Toast.  YUM.
And tonight, if all goes well, I'll be heading to the movie theater with Sara and a bunch of other 30-something moms to watch "New Moon."  Sara has instructed me to not have any more contractions until at least midnight tonight.  But she would bring a towel just in case.
That is one big belly.
3 days to go.