Box Factory for the Arts had a Lego display this weekend.  While we didn't get any photos of the super awesome amazing artwork of the lego, we did get lots of pictures of the lego play room.
Here's Miss R building a house.
Daddy and Miss R building something amazing. I'm not sure what it is, but I'm sure it was way cool.
See.  I told you it was way cool.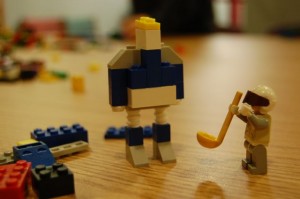 Mommy got in on the action too.  I made a robot.  The little spaceman is offering him some chicken soup.  Apparently he looked a little cold.
We spent far more time in the lego play room than looking at any art.  But that's ok, it was a lot of fun. Plus, we entered a raffle for a set of legos.  Because we only have pink ones and apparently there are a lot more colors out there.