I spent a rather uneventful afternoon crafting again. Some mommies nest with cleaning, I am definitely a crafty nester.
I made some stitch markers. It was quick work, and I loved using up some of my stash of beads.  I'm not much into beading, but I do like having an assortment on hand for when I need to do something with some sparkle.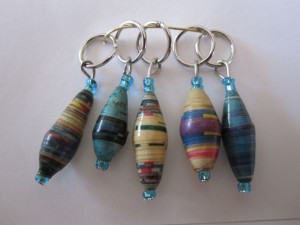 Some close-ups of the stitch markers.  Here's a set made from beads that are magazine paper rolled unto a bead.  They were a gift from a friend.  They are a fair-trade item from Uganda.  That means that the women who made these beads were paid a fair wage for them (not like a Chinese factory worker) and the money they make goes to their families and villages.  I love them.  They are so colorful and beautiful.
Another set of mostly blue beads.
These lime green and turquoise blue glass beads remind me of a friend.  These are her two favorite colors.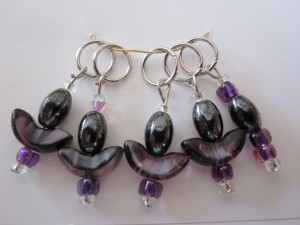 And a set of purple people.  Miss R thinks they look like people.
Hooray for Christmas crafting.  These all have homes to go to when the snow starts flying.  How exciting!  Isn't it great to get another Christmas gift knocked off the list.  I think my second most favorite part of Christmas crafting (besides making lots of fun stuff) is crossing it off the list.  There's just something very satisfying about finishing a gift BEFORE Christmas Eve and having it in a nice little stash ready to go.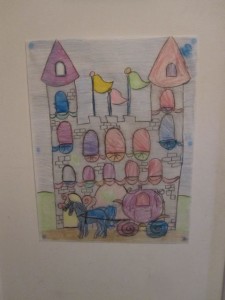 Besides Christmas crafting, Miss R and I made a potty chart today.  We decided to skip the traditional calendars and go for something much more fancy. This is a princess castle complete with carriage and horses.  Every time she goes potty, she gets a sticker.  We colored it in this afternoon, and she already has 3 stickers on it.
There's Ariel peeking out of a window.
And that's how we spent our Sunday afternoon waiting for something to happen to Mommy's tummy.