It's been a long week.  And it's only Wednesday.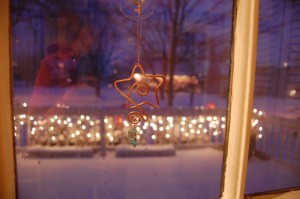 This is what 4 am looked like last Thursday.  It was super cold and snowy and early.  But that is when Donut likes to be awake.  At 4 am.  Until 5:30 or so.  Then I get a brief nap before everyone has to go to school.
I have been napping, baking cookies, and knitting on Christmas gifts.  No pictures of these since they are SURPRISES!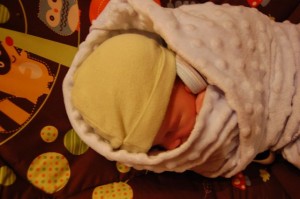 This is Donut's preferred sleeping method.  He likes to bury his nose into his blankets and sleep all curled up.  I don't blame him.  It's really cold. Today, the high is going to be 23, but currently is only 19.  Yikes.  I think it's winter.
Miss R has been playing Peggle.  It's a highly addictive Pinball-esque type game.  She's getting rather good at it. It amazes me how skilled she is with the mouse and the computer.  By the time she's in 1st grade, I'm sure Ben will have taught her home row and she'll be twittering her day from her iphone.
Here's Donut on a particularly coordinated day. He reminds me of Where's Waldo? only in blue instead of red.
Back to napping, feeding, changing, and trying to stay warm!