On the second day of the new year…
We got snow!  The weather reports it was 6-12″ with more on the way.  Hooray for Lake Michigan!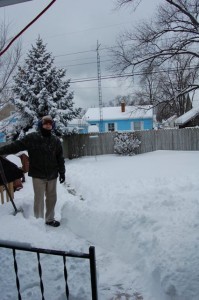 After digging out the driveway, Ben made sure there was a path to the wood pile.  He knows what I like on a snowy day!
A big pile of firewood stacked near the fireplace ready to go!  It's so cozy eating dinner with a fire going in the fireplace.  Some days, I get about this close to moving out the kitchen table and moving in a sofa.  Why there is a fireplace in the kitchen/dining area, I'll never know, but I'm thankful we have one regardless of where it is.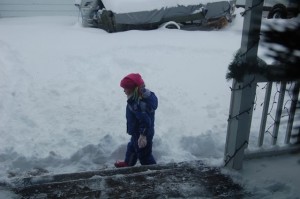 While those two played outside in the deep deep snow…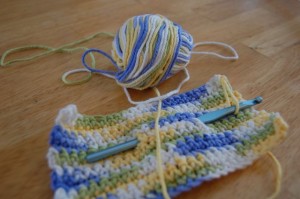 I worked on some domestic crafts.  Here's a dishcloth I'm crocheting with some cotton.  Nothing exceptional, but it kept my hands busy while the Donut slept and Miss R was out helping Ben snow blow and shovel.
I also finished up my first hand spun ball of wool.  It was a lovely surprise for Christmas.  Ben got me a drop spindle, and my mom and sister got me some wool roving and a couple of skeins of beautiful hand spun wool from friends of theirs.
Here's my next wool roving waiting to go!  It's a merino and I'm nervous about spinning it since it's just so nice!  I picked it up from a dyer in Seattle on etsy.  It's so soft!
And that's how we spent the 2nd day of 2010!