I thought that I would list the top 10 excuses of why I cannot blog today (or have failed to blog in the last 2 weeks).
1. I have actually gotten almost 6 hours of sleep every night.  In 1-3 hour chunks.  With 30-60 minutes of awake time every 1-3 hours. Which means I'm actually in bed for almost 9 hours every night.  That's a lot of time in bed.
2. I'm addicted to facebook. I check it constantly.  And get sad when nothing new is posted.
3. Mail.  I've been catching up on mail, bills, magazines, and just about anything else that has piled up near the door in the last 2 weeks.
4. The plumber was here today.  No more duct tape on the kitchen sink, and the laundry no longer spills out onto the sidewalk for unwary dogs and runners to splash through (or in winter months, slide across).
5. Cute sleeping children.  They are quite the distraction.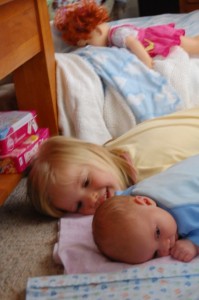 6. knitting.  I have, at last count, 6 projects on needles.  One half of a pair of socks, one half of a pair of mitts, the front of a baby bunting for the car seat, less than half of a scarf in maize and blue, a sparkly twirly scarf and some wire knitting that may not ever be finished. When not knitting, spending WAY too much time on Ravelry planning my next project.
7. Cleaning the house.  While this is not really an excuse for the dusting and whatnot, I have been cleaning out closets and removing items that are no longer needed by us.  This takes a bit of time.
8. Listening to Vampire Weekend's new album.
9. Watching Chuck on Hulu.
and finally
10. Trying to stay warm with heavy socks, mitts, and sweaters while it is minus eleventy eight degrees outside.  Which brings us back to excuse #6 with the knitting of warm items.
There, those are the top 10 reasons I can't blog today.  Perhaps tomorrow I will show you some yarn.