Some belated knitting for you to ogle today.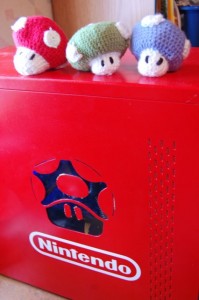 Those little mushrooms were crocheted for Ben for Christmas.
The purple poison mushroom, the green one-up mushroom and of course, the red get big mushroom.
I stuffed the white stem with poly-fil, and the tops were stuffed with a bean bag so that they are heavy enough to double as juggling bags.
The computer is Ben's creation from several years ago.