Dear Monday,
Could you please stop kicking my butt, just for today?  I mean, it's already been a very long day, and it's not even noon.  I know you probably can't help the fussy baby who is congested and doesn't want to sleep lying down.  And I know you probably can't help those 3 hours I spent crammed into the rocking chair between 4 and 7 this morning.  But really, the 6 hours I've spent holding 12 pounds of sleepless, fussy baby are really starting to wear on me. The endless laundry from the spit up, spilled milk, and other body fluids of a newborn are a bit much too.  The dishes that won't do themselves and the floor that won't mop itself are just bumming me out.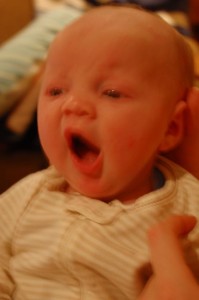 This little guy needs rest.  More than 30 minutes at a time would be great.  And if he could get that rest by lying somewhere other than my arms while standing up and rocking back and forth that would be extra special nice.
I do thank you for clearing up the pink eye, that was nice of you.
Sincerely,
Mommy Rimes