It's been kind of hairy around here this week. It started with Daddy having the flu.  He took a couple of days off from school.  Then Miss R got the flu.  And it was messy.  Daddy took another day off.  Then, on Friday, everyone was feeling better, except for me.  Saturday I tried sleeping all day.  It didn't work.  I'm the mommy, and sleeping all day is not an option. So, I'm up and blogging about some other exciting events to not think about my upset tummy and sleepy eyes.
Let's start with the Silver Beach Carousel.
There has been much anticipation of the arrival of the carousel.  Miss R has been dreaming about riding Blossomtime, the horse that was sponsored by the Miss Blossomtime organization.  That horse you see, is NOT Blossomtime.  The poor girl did not get to ride her beloved horse on the first trip around.  Of course, we had to ride again so she could ride her horse.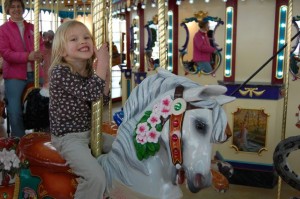 This one is Blossomtime.  See how excited she is?  Tickled pink.  All the animals have their name and their sponsor on a plaque on the floor in front of them.  It was fun to see all the names of the animals and who had sponsored them.
Ben was super excited to be riding the Benton Harbor Tiger.  There was also a bear for St. Joseph, a bronco for WMU, Sparty's horse from MSU, and a bunch of other celebrity animals.
Donut and I rode on the dragon bench the first time around, but going in circles wasn't really our thing, so we skipped the second ride.
The Schillios enjoyed their ride on the rocking peacock.  Little Schillio especially liked chewing on the peacock (he's teething.  He has his first one already!)
We had a great time at the carousel.
It was super cold out and so I didn't get any outside pictures of the building, but you can check out the Silver Beach Carousel Society's page here.