I've wanted to join a sock of the month club for several years now.  Unfortunately, the price tag and time constraints have deterred me from actually joining a sock club.
I have discovered that I actually have enough sock yarn in my house to make my own sock club.
So that is exactly what I've done.  I've already finished January's socks.  While they are small and knit on big needles, I'm gosh darn proud of myself for having finished a pair of socks in less than 30 days.
These are knit in DK weight yarn.  It wasn't the most pleasant of sock yarns to knit, but they are HEAVENLY to wear.  Super soft and squishy!  The yarn is King Cole Smooth.  No color, but it is the most deliciously bright turquoise-my favorite!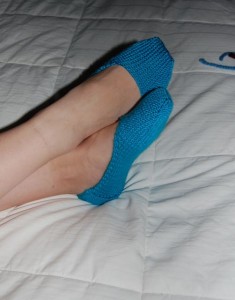 February's socks are already on the needles.