One of the ladies in my Bible study class is from Georgia.  Her husband moved her up here this year and this is her first full winter in the north.  And it's been cold, snowy and gray.  Anyway, she's been feeling pretty blue lately so one of the other ladies in the group suggested we shower her with sunshine this week.  Everyone agreed and we'll all bring a sun for her on Friday.
Since it's cold and snowy out, I thought I might share my sun with you all for a bit of a mid-winter pick me up.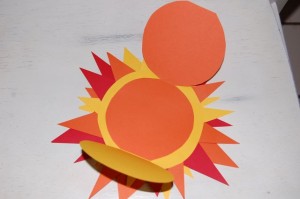 A little leftover craftiness from my bookmaking days.  Now to find something witty to write inside to help cheer her up!
It's just a construction paper cut out. I started with a circle, added the triangles to the back, covered up the mess on the back with a second circle.  Made two circles cards for the center slightly smaller than the big one.  Then, laid them so they would open in opposite directions and glued the whole thing together.  Hooray! Arts and Crafts!