While Piggy was in Geneva, his cousin Wapiggy came to visit us.  He's not exactly the friendliest little pig, but he's cute.  He went with Miss R and Donut to a birthday party this weekend.
It's a little blurry, because little girls don't hold still for long.  But you see that little girl who is not Miss R?  She asked to hold Wapiggy.  Little did she know what a scheming little pig he is.  After a few minutes, he convinced her to run away with him and take him far far away.
There they go!  And that was the last we saw of Wapiggy.  Sorry Piggy, but your cousin is on the run.  I don't know when we will see him again.
However, our friend Ducky stepped up and promised to help us out.
He went to the library with us.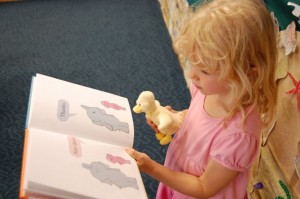 Ducky likes to read Elephant and Piggy books with Miss R.
He also likes to read Scooby Doo.
But unfortunately it was nap time.
Then, Ducky went with me to my clay class.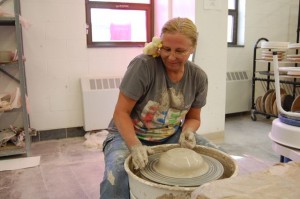 Ducky helped Nettie throw a bowl.  It was a very big bowl.
Here's Ducky modeling some of my finished bowls and a pony.  The pony goes on the boat.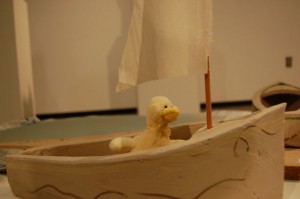 Here's Ducky sailing the boat.  There is a series of three boats that go along with the idea of Lake Michigan's Invasive Species.
Ducky is looking forward to more news from Switzerland soon!