(as posted on the second day of school)
The ever important staged first day of school photo. Cute outfit-check, new backpack-check, stupid grin because Mom tells you to-check.
We walked to school.  Even though they called and offered us a bus.  Even though we live 2 blocks away.  We walked anyway.  It was a beautiful day and the birds were singing about going back to school.  At least that's what I think they were singing about.  It could have been something about how delicious bugs are.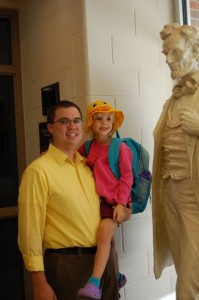 And a picture with Abe.  Because Miss R goes to school at Lincoln.  Get it?  Very cool.
She was super excited, and very shy on her first day.  Today, on the other hand, she was so excited that she started asking 3 hours before school started, "when do I go to school?" and continued every 20 minutes until it was time to go.
I think she likes it.
And I didn't even cry.