This weekend was Halloween.  I don't mean Sunday was Halloween.  I mean this weekend was Halloween.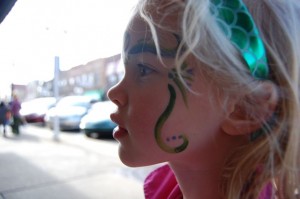 On Friday, Miss R dressed up at school, had a party, did the parade, the whole bit.
*
Saturday was downtown trick or treat.  So we all dressed up to go downtown and grab some candy and ride the carousel.  The carousel was AWESOME all decked out in spooky finery.  The headless horseman was even riding the UofM horse.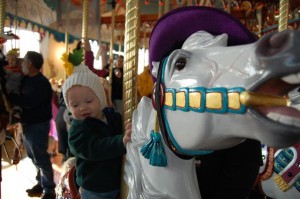 H was riding the horse with a purple pimp hat.  Not sure how that happened.  The baby tiger on the Benton Harbor Tiger was adorable!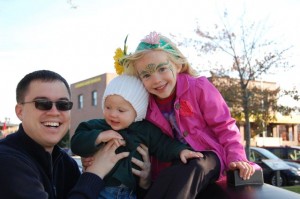 Since we were downtown, a family photo on the cannon was in order.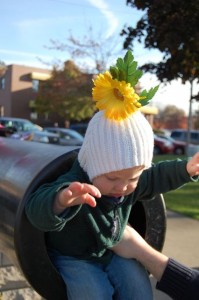 And of course, we fired the baby out of the cannon.
**
Then, on Sunday night (you'll note that this was actually October 31st) we all went out to do some trick or treating.  This was the first year that Miss R really ventured out for candy.  We walked around for about an hour and got 42 pieces of candy (she counted).  Which I think is the perfect amount of candy for a 5 year old and her parents.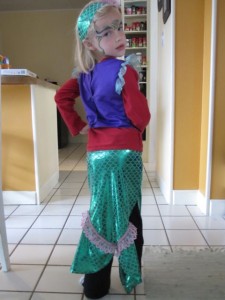 ***
*Original plan was a Munchkin for Donut.  The weather declared that he only wear the hat, so he became a sprout.  I'm sure he'll thank us for it when he turns 13. His hat was knit by Nicole of Knerq for Miss R years ago, and then a flower pin added for fun.
**A gray wig was as dressed up as I got on Saturday.  It was very last minute when Donut woke up from his nap just in time to go trick or treating with Miss R and Ben. After seeing this picture, I'm not so worried about getting gray hair, it's not that bad.
***Miss R as Ariel the little mermaid.  I made her tail out of the most horrible, no-good, super stretchy, sparkly, tail fabric I could find.  She loved it.