As I was looking through my picture files for something completely unrelated, I stumbled upon this…
This photo was taken one year ago today.  Just look at those chubby little legs! And the bald little head.  And the cute wittle sweepy baby!  (sorry-I can't help it)  Plus, he's sleeping. He doesn't do that so much anymore.
Today, he is a rambunctious ball of energy that rarely slows down.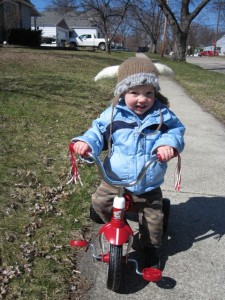 He loves to ride his little red bike.  This was last week.  It was nice enough that we ventured out for an afternoon of fun.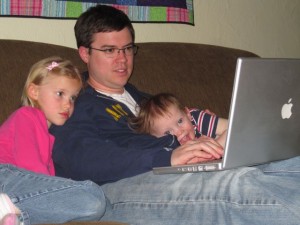 He loves to cuddle with his daddy and pretend to be all cozy when really he is planning how to take over the computer and mash buttons until he writes emails to all daddy's friends.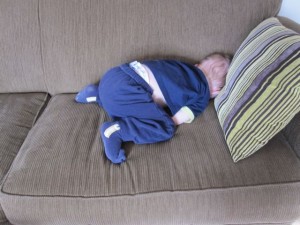 And sometimes, he looks all cute and sleepy.
But that would be crazy, because really, this is a picture of Donut having a major meltdown.  He doesn't sleep like this EVER. He's much too busy playing and being busy, busy, busy.