A short story.
Once upon last Christmas, our cousins who live in South Carolina brought the kids a gator.  No worries, this is a nice gator in her jammies.  She even has a baby gator that she carries around.  Now, one day, the big kid stole the gator and decided she wanted to sleep with her.  The little kid got it in his head that this was not ok, so he made plans.  Big plans.  Then, waiting for just the right moment, he snatched that gator!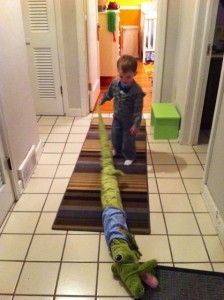 And he ran off with her before the big kid could catch him. He dragged that gator up and down the hallway, around the house, through the kitchen, over chairs and finally into his bed.
Unfortunately, the big kid is smarter and has since staged a coupe and the gator is back on her bed.
The End