Because of my love for DS106, and my love for all things knit, I've come up with an interactive activity.  DS106 Yarn Bombing.
The rules are simple.  Get a knit square (or rectangle, or circle, or tetrahedron) and embroider DS106 4life on it.  Next, take your square and sew, tie, zip tie, or otherwise attach it to an object in public.  Last, take a picture of your Yarn Bombing. Post them to flickr with the tag ds106yarn.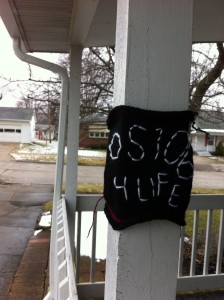 Want to participate?  Post a comment here and I'll send you your very own DS106 4life yarn square.  The only requirement is that you have a mailing address and you must promise to actually put it up in a public space and photograph it.
If you have your own yarn squares and you wish to do this: cool! I can't wait to see what you come up with!