Awhile ago, I received my very awesome DS106 Kickstarter t-shirt.  It is super fantastic cool.  However, when I checked "medium," I was thinking men's t-shirt sizes.  Someone at headquarters saw it and thought, oh, a girly medium would be better.  Now, I totally appreciate that they thought I was so delicate, but as it turns out, I'm a bit more robust than a girly medium can handle.  So for a few weeks, I was sad that I couldn't wear my new threads.
Enter Pinterest: the scariest time suck I have ever entered (outside of actual DS106 projects).  I found this great idea.  Just cut out the seams of your shirts and add in a few inches of another t-shirt.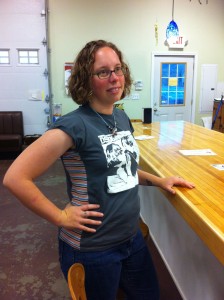 It fits so well with the whole DS106 Remix idea, that it just felt like the perfect solution to a slightly too small shirt that made me look like a Playboy Bunny Wannabe.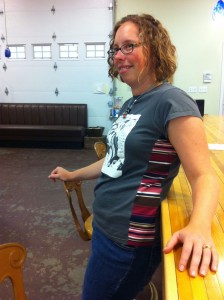 I sliced out the side seams of my DS106 t-shirt, added about 4 inches of 2 other t-shirts (in fabulous, but non-matching, stripes) and like magic**, I had a t-shirt that could fit my more Renaissance woman frame.  Plus, it adds a little something to the gray background of the original, I think.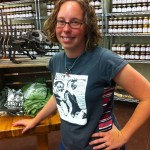 **Use a sewing machine that has a zig zag or knit stitch and it becomes even easier.  Remember that t-shirt fabric stretches.  Pin the right sides together and gently run it through the sewing machine with the appropriate stitch.  If you try a straight stitch, it will not stretch-and that would be a tragic turn of events for your favorite t-shirt.  Also, t-shirt knits will not ravel, so you can leave the edges unhemmed if you so choose.