After 3 days of continuous Christmas parties, we are tired.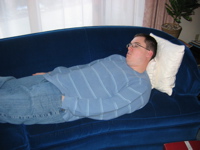 The first Christmas party was at Goat Goat Gramma's house. We had fun visiting the goats, the horses-Bubba and Bentley, and Pilgrim Kitty. He was our favorite, although I don't think the feeling was mutual.
Gramma and Aunt Stuffunie gave us hours of entertainment with cookie eating quotas (I was FAR behind mine), a warm fire, and digging around in the basement for new-old toys.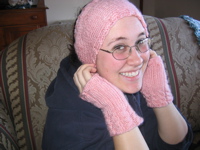 *All handmade goodies are being modeled.  A pair of Fetching mitts, Earwarmer and Nosewarmer from Knitty. 
We also had a very nice Christmas dinner of Turkey and green bean casseroles.
Then, it was off to Grandpa's house where the excitement continued. There was an overload of Play-Doh and accessories. We really like the hair salon. Miss R also got a tool set. She loves to pound in the nails!
*Another handmade hat from One Skein Wonders 
From there it was off to Mommy's family shindig. We played with cousin Lily on the piano. Lily likes to dance and Miss R played the piano.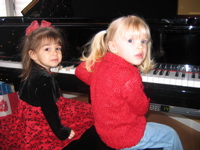 They had such fun together!
Join us tomorrow for the exciting conclusion of Christmas with the Rimes!