Happy Mother's Day to all those Mom's out there. (And to you too Mom!)
Over at Casa de Rimes, we had an entire Mother's Day weekend. Ben and Miss R took me to Holland on Saturday for the Tulip Time Festival.
There were THOUSANDS of beautiful flowers, everywhere!
They were just so lovely. My favorites are those yellow and pink ones. I think I may have to find some tulip bulbs and plant them in my yard.
There were red tulips, purple tulips, white tulips, and just about every other color combination of tulips you could think of. And just about every tulip was a giant tulip. Let me show you.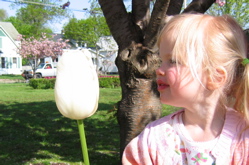 That's Miss R. And she's standing next to the tulip. It's huge. And enormous. And oh so very tall.
And all those tulips were found in just one itty bitty corner park. They were everywhere! I was so amazed that all those tulips had such great timing to be up during the entire week of this festival. Ben tells me that they are either programmed that way, or else the city plants those tulips so they are up on time. I can't imagine if the city plants all those tulips for just one week of festival EVERY year, so I prefer to think that those tulips are just smart enough to know when they need to come up and be beautiful.
After the tour among the tulips, we went to the quilt show that was held at the local hospital. There were many beautiful quilts, but this one was Miss R's favorite.
This little quilt had little mini wooden shoes on it. So cute!
Then, we went shopping.  And of course, when in Holland, do as the Dutch!
Miss R and I tried on some cute little Dutch bonnets. And we ate some waffle cookies.
They were delicious, and I must try to find a recipe for making them.  They were waffle wafers with a maple syrup gooey center.  Way better than Oreos.
We wrapped up the morning by watching the Dutch Dancers.  I had to take a photo of the shoes (of course!) They were so wonderful. But I don't think I could wear them, so I left that to the professionals.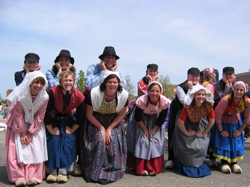 This was a hight school group that performed.  We were so amazed at how wonderful they were.  I wish my high school had a really cool group like that!
And that was our Mother's Day Adventure!
Thanks Ben and Miss R for a wonderful day!