Today was World Wide Knit in Public Day. Emily (a lovely lady from my knitting group) and I set out about 4 weeks ago to organize our own KIP day event.
It went really well. We had someone all the way from South Bend (45 minutes away) who came to knit with us. By the end of the morning, we had 50 participants (3 of them non-knitters, but family of knitters, so it counts). It was perfect weather, and we even had the hot dog guy come and set up right beside us, so we had lunch!
I'm learning how to knit a sock on two circulars.  While I did get the hang of it, the sock got frogged.  I used needles that were WAY too big to make an actual sock.
This is Rowan.  His mom is a knitter.  He was a great son and brought down her chair and bag of knitting and then stayed long enough to get completely hooked on this knitting thing.
This is Rowan's Mom (on the right).  She was trying to teach me to knit 2 socks at once, toe up on Magic Loop.  Anyone not into knitting: it really is as tricky as it sounds.  To everyone into knitting: yeah, it totally baffled me.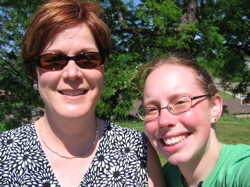 This is Emily, my co-host.  She's totally great and organized everything.  I was just there for the ride Saturday.  Oh yeah, and she's really tall (and I'm really short). Emily was the one who taught me to knit a sock on two circulars.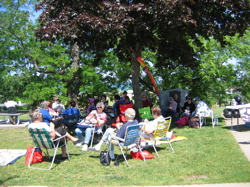 This is the wide shot of everyone knitting on the bluff.  If you look carefully through the trees, you can see the lake.  It was the most magnificent blue-green on Saturday.  It was almost tropical.  But back to the knitters!  We had almost 50 people sitting here with us (including one baby and one Miss R).  What a success!  Can't wait to do it again next year!
OH! and a great big thanks to Ivelise's Yarn Shop for the gift certificates!  Thanks!