And some Warm Woolies too!
Nicole and Max stopped by our place this weekend for a little party.  They are actually from the DC area, and Nicole was in Chicago for a conference, and decided that they deserved a short vacation and stopped off in little ol' St. Joe.
They are so wonderful, and it's so nice to actually get to meet a blog-friend in real life.  I've only actually met Nicole once before, but we chatter back and forth on the blog-o-sphere pretty regularly.
And to show you how super awesome Nicole is, here is our family portrait (taken in 85+ degrees and humidity-you can hardly see the sweat dripping down our noses!)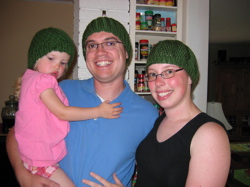 These are the great green hats that Nicole knit for us.  We are the green hat family!  Now, I will never lose my loved ones in a snow storm, I'll just look for the green hats! Miss R's is the koolhaus hat, knit for her over the winter. I'm especially fond of mine, but I'm not sure what pattern it is.  Ben's is a very manly ribbed hat, which he says is altogether too warm to be wearing even for pictures.  Which means that come our Michigan winter, it will be PERFECT! Thanks Nicole!
We also had ice cream.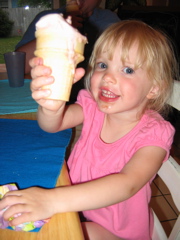 Aunt Sara totally knows how to spoil a little girl.  She even brought cones so there was no mess! Well, except for little faces.  There was a LOT of mess on the littlest of party-goers. But nothing a bath couldn't cure.
What a great Friday night.  Thanks Nicole for coming out so we could have an excuse to eat ice cream and see old friends, and new!
PS.  Nicole and Max scored tickets to the Beijing Olympics while here Friday night.  Well, to be more precise, Max's Dad who resides in China, got the tickets.  But still, totally cool! So look for them in the stands at Track and Field events in August! And happy birthday Max's Dad.  You won't read this, but we'll still wish you a happy 60th birthday (it's a big important one!)