This week is our official summer vacation week.  It's the first week-long vacation we have been on since Miss R was born, and we were certainly ready for it!
Our first stop on our tour of southern Michigan was Grandma's house.  We love visiting Grandma, especially because she has a small herd of horses, goats, and cats.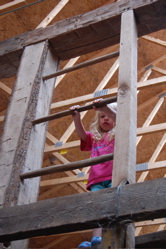 We climbed around the barn.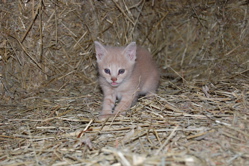 Played with the wild barn cats.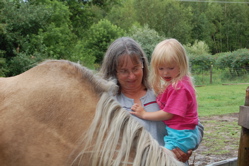 Gave Bock a pat.
Took pictures from the hay loft.  That's Bentley and Bock down there.
Went for a ride on Bubba.
Gave Bubba a pat after riding.  He was such a good boy.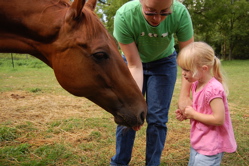 Gave Bubba some post-riding treats.  He likes his apple cookies!
And finally, took a little break after all that work.
We had a great time with Grandma.  Miss R made friends with all the animals, and had a great time running around the house chasing Pilgrim Kitty. We never get to stay long enough though, and soon we were off to our next destination!