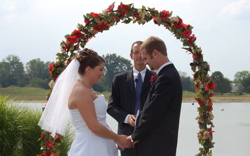 Yesterday, we went to Andrea and Ben's wedding.  Andrea is my Ben's cousin, and she married another Ben (not too confusing, right?)
They were married on a beautiful day, at the Southern Dunes Golf Course in Indianapolis.  The ceremony was beautiful, there were tears, smiles, and the laughter of one little girl.
Miss R was flower girl for the ceremony. And she took her duties very seriously.  Of course, Mommy had to walk with her, but she threw her flower petals with gusto and when we were all done, she wanted to do it again!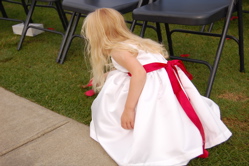 She even tried picking up the petals so she could throw them again.
Congratulations to Andrea and Ben on the beginning of their life together.
May your marriage be full of happiness, laughter, and love.