Sorry it's been so quiet around here.  Everyone had to go back to school (that's what happens with two teachers and a pre-schooler) and it got a little crazy around here.  I owe you some pictures (we've got some good ones!) and a few adventures.
But let me start by saying, it's been a rough week at school.
I have two stitches in my thumb to prove it.
Ok, back to the kid stuff.
Here's a taste of what we did during our weeklong vacation: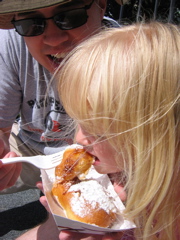 That's a deep fried twinkie that we got at Cheeseburger in Caseville.
It was yummy.
I'll post some more pictures of our adventures at the circus and back to school pics.