During the last weeks of summer, while we were at Gramma's house in Port Austin,  we went to a circus.  It was Miss R's first circus.  And it did not disappoint.
There were elephants.
There were camels.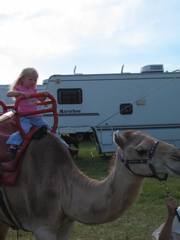 And we were enthralled.
There were also jugglers, hula hoopers, tigers, clowns, small dogs, and twirlers of all kinds.  But I didn't get pictures.
However, Miss R STILL talks about her camel ride, and how she did not want to ride the elephant under the big top.  She is also sad that she didn't get to jump in the bounce house, but very happy that she got to see the tigers leap and the juggler throw flames.  She also remembered the man standing on the horsey ("that wasn't very nice").
It was a lot of fun to see a circus under a big top in a small town.  I was actually more interested than I thought I would be.  Some of the things those people are capable of are simply astounding.  And they do all those twirls and tricks with so much grace.  It makes me want to go to Vegas and catch a Cirque De Soleil show.
Any happy circus memories out there?