This weekend was our 2nd annual Apple Pickin' Expedition with Gramma.  Last year, we went unaware and unknowledgable in the ways of apples.  This year, we came prepared.  We brought along a few half bushel baskets in order to carry our apples (the bags they provide are just too cumbersome to carry apples in) and our rain boots (with all that rain we had last weekend, there was sure to be a few mud puddles).
First, there was the choosing of the apples.  We were situated by the Golden Delicious trees, but that didn't stop us from gathering Jonathons, Jona Golds, Mutsus, and a few Empires too.  The only real requirement was that the apples were only about 3 feet off the ground. No problem.
The second requirement was that all apples had to be picked with Gramma.  They also had to be placed in Gramma's bucket.  So Mommy and Daddy were on their own.  Not to worry though, we got PLENTY of apples.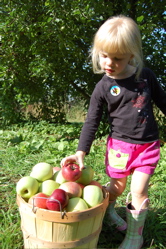 Miss R is a very good apple picker.  See?  Look at all those apples.  Plus, I think the cute rubber boots helped a bunch too.
Isn't that a beautiful basket of apples?  And yes, that is alot of apples.  But that's Gramma's bucket, so it's ok.  Gramma likes to do things like eat them and make cobbler and pies from them.
While we lugged our apples to the car, Miss R found the only patch of unmowed grass in the whole orchard. It was great fun to run back and forth through the tall grass.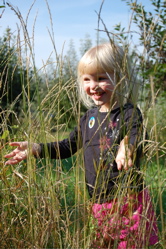 It was a good time.
But, just so you don't think that Gramma and Miss R had all the fun, here's what Mommy and Daddy brought home.
Yeah, that's a bushel and a half of apples.  3 BASKETS of apples.  I think we have enough.  And if you ask what we need all those apples for, you apparently did not get any applesauce last year.  And that's because I split a half bushel with Gramma last year.  Which only made a dozen cans of applesauce.  So, we decided that we needed more applesauce this year.  Yes, Stephanie, I think one of the quart size jars has your name on it!  Plus, I've already made a few goodies from all those apples.
See? That's a deep dish apple pie with a homemade crust.  That homemade crust is from my favorite southern cook book.  That means it's totally healthy and fat free (yeah right!).  But it was great and went really well with some whipped cream.  Yum!
Anyone else doing any autumn type things this weekend?