This weekend, I went with Emily to Threadbare.  We had a great time going through the ENORMOUS collection of yarn that they keep stocked in the store.  It took a while, but I finally settled on some Louet Gems sock yarn in a delicious shade of purple and also a Needful Yarns Cotton in a green/orange mix that is delightful.
But, the best part of going to Threadbare?  I got to make a baby sock at a workshop I took.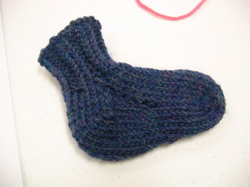 Oh, that's not exciting enough for you?
Alright, fine then.  How about this?
I got a picture of me holding the finished sock.
I actually finished it in 3 hours (and have started the other one already!) Totally exciting, right?
Ok.  You all are a tough crowd to impress.
One more thing, just for those of you not impressed with my sock making ability.
Cookie A. was the one who taught the class.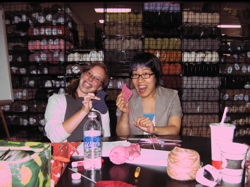 And she let me take a picture of her while we made "crazy faces"!
It was a great afternoon and Cookie was delightful.  Miss R insisted I make cookies (she didn't quite get that I was going to see Cookie) and so we snacked on cookies while listening to Cookie and knitting our little socks toe up with a crazy trapezoid heel.  Which I'm totally going to try on an adult pair of socks really soon.
Thanks Emily for taking me out to Lansing and getting me hooked on yet another great store with too much fiber in it.  And thanks to Cookie for flying all the way out to Michigan to teach a bunch of knit-happy women (and men!) how to knit in a new way.  And most importantly, thanks to Ben for watching Miss R for the day while I got to go petting yarn.