I've been so busy crafting this last week, and haven't shown anyone yet.  Mostly because some of it is Christmas related, and all the people I am crafting for read this blog.  So, instead, I think I'll show you some of the things I've been making for myself-I know not terribly Christmas-y, but that's what happens when you are home for an entire week with nothing on the agenda but to be selfish and heal.
So for today, I give you circular needle holder from SnB.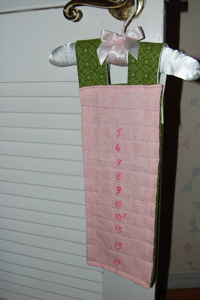 The fabric is pink and green from a wonderful stash of fabric that my mother-in-law gave to me last Christmas.  Thank you!
Miss R donated the little padded hanger.  It's from one of her newborn outfits, and it's just not big enough to hold her big girl sweaters anymore.
After I stuffed it full of all my circular needles, which was a task, Ben said, "wow, that thing looks scary.'  I didn't take a picture, because that's like trying to take a picture of your yarn stash.  It sort of makes the stash look WAY too big, and unnecessary, and then you just don't have it in you to buy any more for the stash.  But I totally have an excuse for too many needles! I do!  My grandmother was a knitter, and she gifted me with all of her needles when she went into hospice care.  She had some really beautiful old needles too.
Which is why I also made a felted needle case to house those.  Well, at least the ones that are not hanging out in my vase in the living room.  Those are the really pretty ones on display for others to enjoy as well.  Until I use them.  But, you don't get to see that today, I'm going to save that post for another rainy, pre-Christmas day.