Miss R had her Christmas Party today. Of course, we had 8 inches of snow, hail, sleet, and really rotten driving conditions.  Too bad, there was a party to go to!
All the kids had a great time.  They decorated cookies, ate lots of munchies, and had a great time with the snacks. Then, they played "Pass the Candy Cane."  I wish I had a picture of the poor, mangled thing that was the candy cane after the kids were done with it.
Then came the good part.  The presents!!
Miss R picked the one in princess paper.  Of course.
What's in the package wrapped in PRINCESS paper?
It's a princess!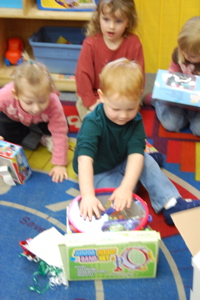 Who gave this kid a drum?  Glad Miss R didn't get that one!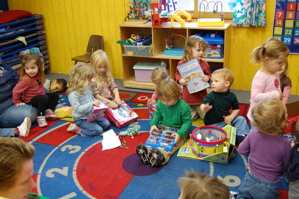 Here's the chaos that was the after-unwrapping.  See that kid with the drum? Yeah, still going!
I gotta say, the teachers were phenomenal.  Miss Amy totally had this down and within minutes, the kids had all their presents cleaned up and were playing happily with the other toys.  There were only about 3 tears from the first little girl to get a present, she really wanted that open! But within seconds, they had her back in the fray. Great party!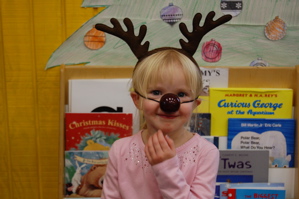 Merry Christmas!