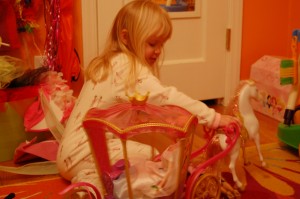 One of Miss R's Christmas presents was this little Princess carriage from Goat Goat Gramma.  When she woke up Christmas morning, it was sitting there under the tree, batteries in place, ready for her to play with.  (Santa got really smart)
Since then, she loves to play Princess and they all take turns going to the ball.
I only wish this website had sound.  You have to hear this thing.  The carriage twirls (making all princesses inside turn green by the time they get to the ball) and plays a little traveling music.  It's actually really cute, and I like that the horse has wheels on its feet in order to help scoot it along the floor.
But oh! the music.  It's a delightfully loud display of something quasi-classical-you know, the kind of music princesses like-and starts over every time you stop the carriage.  I was tempted to set up a space in the house that was long enough that we could get the carriage all the way to the end of the song.
Looking at this picture, I realize just how bright, bold, and nauseatingly-orange Miss R's room looks.  I promise, it's just as daring in real life.  She loves it.