We went ice skating!!!
Well, to be exact, Miss R and Daddy went ice skating.  I just watched.  (I still have quite the bruise, and couldn't imagine making it any larger).
But I did get some good pics!
Miss R took to the ice like a fish in water.  She got the hang of it so quickly, I was quite impressed.  She did use the funny little bar thing, but she really got flying a few times.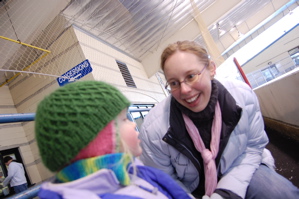 Miss R skated for almost 30 minutes before she had to stop.  And she didn't stop because she was tired.  Nope, we had to wait for the Zamboni to clear the ice.  Then she was right back out there.
Even though she did wipe out a few times, she got right back up.  I asked her if she hurt her bum, and she told me, "no, but it's kinda cold and wet!" You gotta love kids.  They bounce.  I remember bouncing a few times myself (I was into horses though, not ice) and I watched with my eyes averted so I wouldn't have to imagine how it hurt when she fell.  Because I could totally FEEL how my body would have hit the ice.
But she is short, and the fall wasn't long.  This morning, she asked if we could go again.  I think I see ice skating in our future.
At least for another month or until the ice melts. Which could be sooner, if I had anything to say about it.