There's a hole in the bucket…er basement.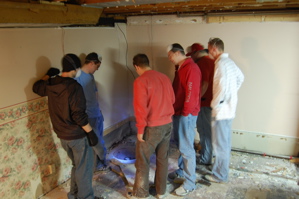 That's the crew we have over here today demolishing the basement in preparation for waterproofing.
I found it so funny that they all stopped working to look into the newly discovered hole.  This was hidden with a large bench that was built into the wall.  Once the bench was removed, there was an extra sump pit.
The joys of home ownership.
And because I found it so funny, those are 5 teachers and a mechanic.  Those boys are having such a great time destroying tile, walls, ceilings, a staircase, and a recently finished bathroom.
What a great weekend it is.