Over the weekend, Santa came to visit at the Silver Beach Carousel.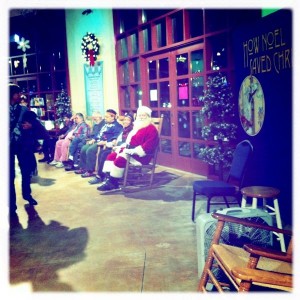 We found him relaxing in the rocking chairs with some other people.  He looked really at home.
Miss R was so excited to go see Santa, but when we got there, shyness took over and she would not leave Daddy's leg.
Donut, however, got into the spirit of things.
Yup, that's the big guy giving the little guy a high five.  I totally missed the first half of the complicated man-dance of high five action that started with a fist bump and ended with some sort of complicated snap and gingerbread hand thing.
Donut asked Santa for a million Thomas trains (well, he would have if could say, "Santa, I want a million Thomas trains.")  and Miss R froze up and couldn't think of a thing to say, so she just mumbled something about pink and princesses.
After our visit with Santa, we did some coloring, snacking on popcorn, and of course, we had to ride on the carousel.
All the horses and bears were all decked out in holiday wear and all the lights had been changed to red and green.  The carousel is just so great!
Only 19 days until Christmas!