While Natalie was here, as a thank you, I took her to the local yarn store, Ivelise's.  She had a great time looking at ALLLLLL the yarn and the books for ideas.
While we were waiting, we had some yarny fun of our own.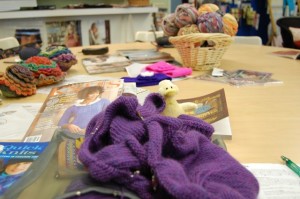 That's my mystery knit* with Ducky on the big round table. Can you see all the yarny goodness hiding in the background?  To the left are wound up scarves in a cute little crochet pattern.  When wound up they look like little heads of broccoli or something.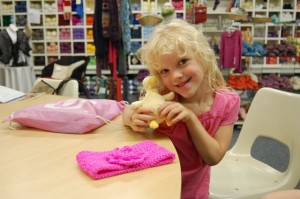 Miss R and Ducky show off a bright pink flowered headband that she would like me to make for her.  Only skinnier.  And with rainbow yarn.  And a bigger flower. And stretchier. So really, it won't look anything like that at all.
A stealth shot of Natalie picking out some yarn. She took FOREVER to pick out yarn
But she got some really great stuff that made her happy.  Plus a new book, 60 Quick Knits for Cascade 220.  I'd like to get a copy of that book.  Lots of fun little projects in there!
I can't wait to see what Natalie is up to with all her yarn and new patterns, but since she was doing some stealthy holiday knitting, I think I'll just have to wait.
More updates coming!
In other news, Ben is still in Switzerland.  But he's sick.  Say a quick prayer, light a candle, cross your fingers, slaughter a pig** or whatever it is you do to pass on the good luck he needs to finish his class, graduate on Friday, and make it home without the flu.
*More on the mystery knit later.  It was finally released, so I'll show it off to you later.
** Ok, don't really do this unless you are a trained professional who will later eat the pig, please.